I have been away for a few weeks, dealing with some family issues and taking a much needed trip back home. Rather than get into a lengthy explanation that I am sure is really only interesting to me anyway, I figured I would jump right back in the saddle with our 2012 summer bucket list! I was so inspired by Little Wonders' Days bucket list party that I just had to join in!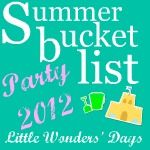 Now, there are about 50 things on this list, and I am [almost] sure that we won't have time to get to everything. We are certainly going to try though! Here's to a fun-filled, fabulous summer!
Play with cars
Make lemonade from lemons
Picnic often
Visit a new playground every week
Put our zoo pass to good use
Regulaly buy produce from the farmer'smarket
Visit the Lemay Museum on a free day
Go hiking every week
Visit the Fort Nisqually Living History Museum during the Renaissance Fair
Ride bikes
Have a water balloon fight
Go to a concert in the park
Attend the maritime festival
Tiptoe through tide pools
Go to the safari
Have a banana split party
Go to the Seattle market and EMP
Take a trip to Mt. St. Helen
Ride the train
Pick blueberries and make jam
Make mudpies
Roast marshmallows
Play at the beach, collect shells and sand dollars
Tend the garden
Go to the new children's museum
Find and take pictures of 5 different waterfalls
Read outside
Play flashlight hide and seek
Run through the sprinklers
Collect bugs
Bring the outdoors in- Create a nature center
Light fireworks
Attend lots of library story times
Dig for clams – set them free!
Wash cars
Have a fancy "coffee" and cake party
Play hopscotch
Make homemade ice cream sandwiches
Go to Schitler Farm
Oobleck
Go to the splashpark
Make fizzy sidewalk chalk
Make a new friend.